Actor Samuel West takes on role after actor's stage fall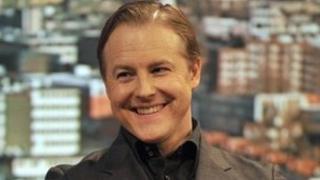 Actor Samuel West came to the rescue of a play he was directing when one of its stars fell from a ladder on stage minutes after the curtain went up.
The accident happened during Saturday's matinee of Alan Plater's 1968 classic Close the Coalhouse Door, at the Yvonne Arnaud Theatre, Guildford, Surrey.
West was in the audience when actor Chris Connel was injured. Connel was taken to hospital but later discharged.
Following a short break, West came on stage and read his lines from a script.
Connel, who fell about 15ft from a ladder, was taken to the Royal Surrey County Hospital in "a lot of pain".
He was later discharged and sent home to rest.
Audience member Mike Smartt said West told the audience it was by chance he was in Guildford that day to watch the play he was directing.
Mr Smartt added that Connel, who played Jackie in the musical play about a coal-mining family from a North East, had reportedly injured himself on Friday evening but insisted on continuing.
West, who has starred in Howards End and Notting Hill, played the role again for Saturday evening's audience on the last night of the Northern Stage and Live Theatre production's four-day run.