London 2012: Royal Holloway prepares its Olympic village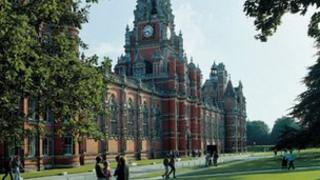 A Surrey university is preparing for more than 1,400 Olympic athletes staying on campus for London 2012.
The athletes will be living in student accommodation at the Royal Holloway University in Egham.
During the Games, they will travel by coach to the rowing and sprint canoeing events at Eton Dorney on the Thames.
Melanie Loizou from the university said: "We are really looking forward to it. It's amazing to be part of the biggest sporting event in history."
The university students have left the site for the summer and now preparations are under way to ready the campus for the athletes.
Many of the rooms have double beds and ensuite bathrooms, however, according to Ms Loizou, some of the beds are to have extensions added to them to accommodate larger athletes.
The double beds in the halls of residence are 6ft 3in long, but many rowers are well over 6ft tall, for example Britain's Vicky Thornley, who is 6ft 3in, and New Zealand's Mahe Drysdale and Canadian Malcolm Howard, who are both 6ft 6in.
The university said it did not yet know final details of which teams or athletes would be staying in Egham.
"We obviously wanted to make sure that the athletes staying with us have the best possible nights' sleep ahead of what will probably be the most important races of their careers.
"We found at the test event last year that many rowers, male and female, tend to be over 6ft and so in spite having double beds, they are still not big enough," said Ms Loizou.
A gym and recreation centre has also been erected.
The athletes will start arriving at the Royal Holloway on 16 July.