Epsom Derby sex attacker e-fit released by Surrey Police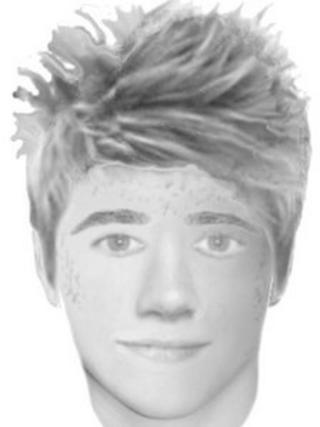 An e-fit of a teenage boy who sexually assaulted a 15-year-old girl during the Epsom Derby has been released by Surrey Police.
The victim told police she was attacked in a field close to a music and fairground area, where she met the boy.
He is described as white, aged between 16 and 17, skinny but muscular, with a wide jaw, short ginger or blond hair and a pale and spotty complexion.
The attack happened at 16:00 BST on 2 June.
The Queen kicked off her Diamond Jubilee celebrations at the course on the same day.
Police said the boy was wearing a long-sleeved, dark blue top and baggy blue jeans.
They also said they want to speak to a boy of a similar age who the offender was with.
He is described as having a larger build, with short, flattened brown hair and tanned skin. He was wearing a short sleeved white top and blue baggy jeans.
A woman who police were trying to trace in a previous appeal has come forward and provided information to police.