Combat Stress helps 400 Falklands veterans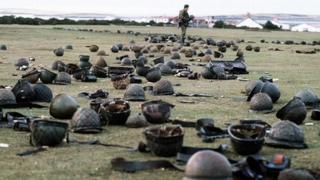 A charity based in Surrey has treated more than 400 veterans of the Falklands War for mental health problems.
Combat Stress, which is based in Leatherhead, said it was still being approached by veterans for help.
Most of the people being treated suffer from post-traumatic stress disorder.
A ceremony has taken place in the Falklands' capital Port Stanley to mark 30 years since British forces liberated the islands.
Combat Stress chief executive, Commodore Andrew Cameron, said: "Today Falklands veterans will be looking back and remembering their friends and comrades from 30 years ago.
"But for a small yet significant number of veterans, today is just another day when they are reliving the horrors of war."
The charity, which was formed after World War I, said it had spent £6.5m treating servicemen who fought in the conflict.