Met Office and Environment Agency in heavy rain alert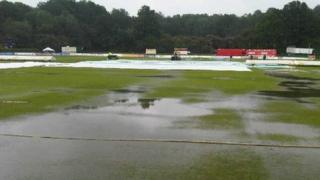 Further heavy rain is forecast across the South East as residents clear up after deluges this week.
The Environment Agency said up to 20mm of rain could fall across the region from Friday and into the weekend.
Heavy rain forced Kent County Cricket Club to move its match against Sussex on Tuesday to the St Lawrence Ground in Canterbury.
The club's first Twenty20 match of the season was moved after flash-flooding at Tunbridge Wells' Nevill ground.
The Met Office has said that the ground remained saturated after recent heavy rain and further downpours could lead to surface water issues and localised flooding.
'Remain vigilant'
Weather warnings are in place for Friday from midday.
On Thursday, one flood warning and eight flood alerts were in place across the region, but the Environment Agency said more could be added in the event of significant rainfall.
Environment Agency crews were closing flood gates, operating flood storage areas, removing debris from known hotspots and warning and informing the public about the possibility of flooding.
South East flood and coastal risk manager Peter Quarmby said: "Latest forecasts indicate that heavy rainfall is again expected to cross the South East on Friday and into the weekend. We urge everyone to remain vigilant."