Young athletes gather for Surrey Youth Games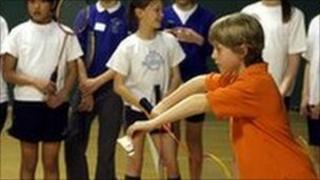 More than 2,000 young athletes are taking over Surrey University's sports facilities as the county's 11 boroughs and districts compete in 13 activities.
The annual Surrey Youth Games has been held at Surrey Sports Park in Guildford since it opened in 2010.
A total of 253 teams of able-bodied and disabled children are taking part in the two-day event.
"We are pretty much taking over the whole place," said Active Surrey spokeswoman Linda Jacks.
"We have got eight different sports each day and we use every single part of this facility apart from the fitness studio."
Outdoor sports include football, netball and hockey, with judo, basketball and non-contact boxing taking place inside.
A form of wheelchair bowls, called boccia, is also taking place on Saturday.
"It is a great sport because it allows able bodied and disabled athletes to compete against each other," said Ms Jacks
"The only rule is you have to be sitting down when delivering the ball."