London Irish Rugby Club plans for Sunbury ground approved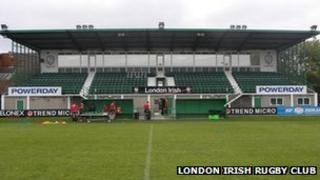 Revised plans for a new training centre for the London Irish Rugby Club in Surrey have been approved after two earlier schemes were rejected.
The latest proposals for the Hazelwood Golf Course and The Avenue sites in Sunbury include 206 new homes.
Planning permission was granted by Spelthorne Borough Council on condition the community will have the use of the rugby club's facilities.
One fifth of the homes on The Avenue estate will be affordable housing.
London Irish will build a Rugby Centre of Excellence at Hazelwood golf course and redevelop its existing training ground at The Avenue.
The club will also contribute £1.5m for affordable housing elsewhere in the borough and £600,000 for education facilities in Sunbury.
The housing scheme will also include 60 sheltered homes and 106 private dwellings in a mixture of two, three, four and five bedroom properties.
Earlier applications from London Irish were refused by the council in 2010 and dismissed on appeal in October 2011.