London 2012: Cycle races will cause 'massive disruption'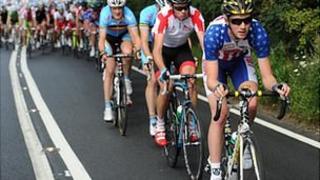 Road closures during Olympic cycle events will cause "massive disruption" but many businesses will receive a boost, a Surrey council leader says.
Rob Moran, chief executive of Elmbridge Borough Council, said firms and residents should plan ahead.
About 500,000 visitors are expected to watch the cycle road races with another 800,000 watching the time trials.
Business leaders said some firms had not organised themselves in time, but most would see great benefits.
Mr Moran said: "The key thing from our point of view is that local people and businesses are aware of what will be happening on Olympic event days.
"We've been saying for a long time 'plan ahead'. The roads will be closed from very early morning to early evening. There will be massive disruption."
"Many businesses will be celebrating because they will have hundreds of people on their doorsteps, particularly those in catering. Restaurants and bars will see a fantastic increase in trade.
"We do recognise that's not the case for many who will suffer some inconvenience and a loss of trade."
'Lasting legacy'
The road race route takes cyclists from The Mall, through west London and then out to Surrey and back, including a circuit around Box Hill on 28 and 29 July with the time trails taking place on 1 August.
Road closures planned during the Olympic events have already been released.
Residents and businesses within 100m of the Olympic cycling events in Surrey received a series of newsletters detailing how the event will affect them.
The newsletters include maps of the route, details of road closures and advice.
Dave Jupp from the Molesey Business Association, said: "There has been lots of preparation done. Some businesses haven't organised themselves, but some have.
"I think they [the local authorities] could have provided [information] a lot earlier."