London 2012: Olympic rings on Surrey's Box Hill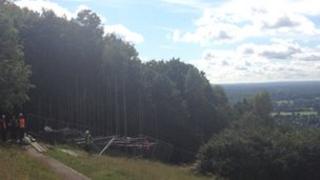 An aluminium sculpture of the Olympic rings is being built on Box Hill - where the London 2012 cycle race will pass through.
The structure will be is about the same size as the rings that have been suspended from Tower Bridge in London, Surrey County Council (SCC) said.
Builders said it would take up to five days to install the rings on the hill, because the site was hard to reach.
Construction worker Brian Summerbell said they would look "fantastic".
The temporary structure on the National Trust site, which will be removed after the Paralympic games have ended, needs about 25 tonnes of scaffolding.
Mr Summerbell said: "Yesterday, we had thunder and lightning right above us, but even that was quite a view seeing it come through the valley.
"It's an amazing view. I think people will be surprised, when it gets beamed on television, how beautiful it is here."
The road race on the opening weekend of the Olympics takes cyclists from the Mall, through west London, out to Surrey and back again, and includes a 9.6-mile (15.5km) circuit around Box Hill.