Surrey Police Commissioner candidates named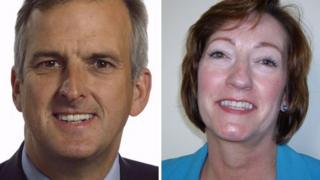 A number of candidates standing for Police Crime Commissioner in Surrey have been announced.
Magistrate Julie Iles has been chosen to represent the Conservative Party and the Labour candidate is the former MEP Robert Evans.
The Liberal Democrats are yet to decide who will stand for election.
Commissioners, to be elected in England and Wales in November, will oversee the work of police, which ministers say will make forces more accountable.
Independent candidates who have decided to stand include a former soldier, Paul Clarke, and the chairman of the Surrey Police Authority, Peter Williams.
Conservative Party members selected Julie Iles, who is deputy chairman of the party in Mole Valley, from a shortlist of three candidates.
The others were barrister Howard Jones and the former Woking MP Humfrey Malins, who pulled out of the race.
Mr Evans, who is chair of Runnymede and Weybridge Constituency Labour Party, was elected unopposed as a candidate in June.
Police Crime Commissioners will replace police authorities in 41 areas in November.
They will have powers to hire and fire chief constables, set police force budgets and commission some criminal justice services.