London 2012: Surrey cycle road race phone app launched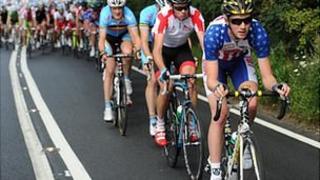 A free smartphone app has been launched to help people get around and find information about the Surrey section of the Olympic cycle road race.
The county council said the "Surrey Road Cycling" iPhone app would enable residents and visitors to get the best out of the event, which starts in the county on 28 July.
Hundreds of thousands of spectators are expected in Surrey for the races.
The authority said preparations had been going on for two years.
Helyn Clack, cabinet member for community services and the 2012 Games, said: "Hundreds of thousands of people are expected to watch the Olympic cycling events in Surrey.
"This app will help them enjoy themselves, direct visitors to local businesses and provide important information about getting around."
The men's race is on 28 July, with the women's the following day, and the cycling time trials on 1 August.
The road race on the opening weekend of the Olympics takes cyclists from The Mall, through west London, out to Surrey and back again, and includes a 9.6-mile (15.5km) circuit around Box Hill.
Residents and businesses in the county have been urged to plan ahead and be prepared for road closures, parking restrictions and issues caused by hundreds of thousands of extra people coming to watch the races.