London 2012: Concern over Surrey cycle race costs after event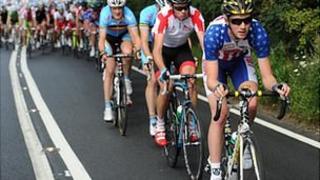 It is unclear who will pay to restore traffic calming measures along the route of the Olympic cycle road race, BBC Surrey has learned.
Eleven such measures have been removed along the circuit route in preparation for the event beginning on 28 July.
The estimated total cost of reinstating them could be about £225,000.
Surrey County Council said it had a contract with the Olympics organisers to settle the bill, but Locog has said the local authority will have to pay.
Hundreds of thousands of spectators are expected to watch the events, with the men's race on 28 July, the women's the following day, and the cycling time trials on 1 August.
'Just a misunderstanding'
The road race on the opening weekend of the Olympics takes cyclists from The Mall, through west London, out to Surrey and back again, and includes a 9.6-mile (15.5km) circuit around Box Hill.
Oona Muirhead, South East representative for the Olympic Organising Committee, said hosting the cycling would bring many opportunities to the county and the costs of restoring the infrastructure would have to be borne by the council.
"In terms of infrastructure, councils have spent money on roads, but I don't think that money's going to go to waste.
"We all know that good infrastructure is what makes a good county and a prosperous county," she said.
Ms Muirhead added: "Councils clearly need to work with businesses to look at maximising the benefits from the Games."
But Helyn Clack, cabinet member for community services and the 2012 Games, said there would be "a final settling of accounts".
"My information is that we have a contract with Locog that we are providing a great deal of the road maintenance and improvements and that we will settle an account with them after the Games.
"We've paid for a lot of the road improvements which were part of our programme for road improvements anyway.
"I think this is just a misunderstanding actually between what we've agreed and what they've agreed.
"The contracts are quite clear that we've said we'll invest a certain amount of money in it and that they will too.
"I don't see that there's a conflict here at all."