Woking Royal Dramatic College celebrated in exhibition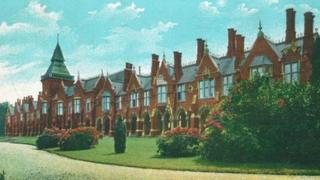 Few buildings have had a past quite so varied as the Royal Dramatic College in Woking.
It has been a purpose-built retirement home for Victorian actors, an institute to study Islam and a World War I factory building fighter planes.
And now, following its demolition and replacement with a retail park, its history is being celebrated at an exhibition in The Lightbox museum and gallery.
Built in 1862 after Charles Dickens and William Makepeace Thackeray realised their vision of a retirement home for impoverished Victorian actors, the college hit hard times and closed after 15 years due to lack of funds.
Peter Hall, the exhibition's curator, described its rise and fall as a "curious story".
"In the 19th Century, once an actor had retired they would fall on hard times, as there was no such thing as a pension and acting was not well paid," he said.
"Dickens and Thackeray thought they needed somewhere to live out their lives that was quiet and tranquil.
"They held terribly grand fundraising events at Crystal Palace, which high society would come along to. But they spent so much money to stage these they never made a profit."
'Mummified cats and crocodiles'
The building was given a new lease of life when it was taken over by Victorian polyglot and academic Dr Gottlieb Leitner, who opened the Oriental Institute in the building.
He also created the first purpose-built mosque in the UK - the Shah Jahan Mosque - which stands today close to site of the institute.
"Dr Leitner was one of these 19th century Indiana Jones figures," said Mr Hall.
"He brought several thousand items from his own collection, including mummified cats and crocodiles from ancient Egypt and textiles from India."
Following his death in 1899, the building went through another vacant period until aircraft and motorcycle manufacturers Martinsyde Ltd bought the site.
The firm helped equip Britain during World War I, building the Martinsyde Elephant, a fighter and bomber aeroplane.
But after a fire destroyed much of its stock in 1920 the firm went into receivership two years later.
Its final incarnation as a factory for manufacturer James Walker Ltd lasted until the mid 1990s when the building was demolished following hurricane damage to the roof.
'Living history'
Mr Hall said this final phase of its life was possibly the most important, when the factory - called the Lion Works at the time - employed 2,000 people in Woking.
"It is a personal story with a living history," he said.
"There are a lot of people alive who used to work there or knew someone that did."
As part of the Woking museum's exhibition there will be paintings and acting memorabilia from its days as the Royal Dramatic College, some of Dr Leitner's exotic objects and a Martinsyde motorcycle.
But Mr Hall said it would be the recreation of the James Walker boardroom, which was based in the former great hall of the building, that was the most evocative exhibit.
"It had an enormous stuffed lion and the stained glass windows at either end," he said.
"The general staff would not be allowed inside, but they would have known about how impressive it was.
"So we're hoping that people who used to work there will come along and experience it for the first time."
The exhibition runs from 31 July to 7 October.