New Strood Academy ready to open doors in Medway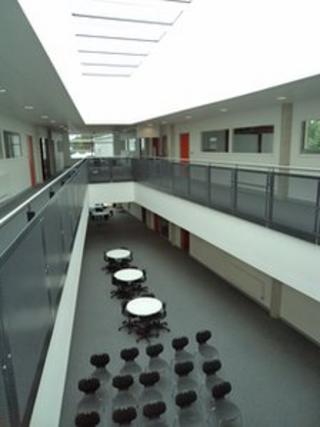 Work on a new multi-million pound Kent academy has been completed, with pupils expected to start in September.
The Strood Academy, the first new secondary school in Medway for more than 40 years, cost £26m to build.
The new buildings have been built on the playing fields of the existing school, formed after the closure of Chapter and Temple schools in 2009.
It is being sponsored by Medway Council and the University of the Creative Arts.
The academy is designed to house 1,500 pupils, with six science laboratories, a library and seminar spaces, sixth form centre, dance and drama studios and eight IT suites.
It also has a 60kW wind turbine, which will generate up to 17% of the academy's electricity requirements.
The grounds around the building will also be fully landscaped with a wetland study area, fitness trails and a wildlife garden.
The academy's principal, Richard Hart, said: "The new building will inspire future generations of young people to achieve great things in Strood."
It will specialise in mathematics, business and enterprise.