Guildford man arrested after attack on Guilfest father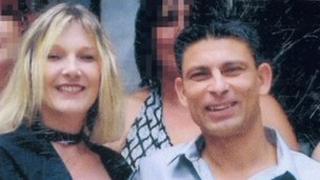 A man has been arrested on suspicion of attacking a father in front of his wife and 16-month-old son after the Guilfest music festival in Surrey.
Peter Hart, 40, suffered serious head injuries when he was headbutted and punched as he was leaving the event on 13 July.
He remains in a critical condition in hospital.
Surrey Police said a 32-year-old local man had been arrested on suspicion of causing grievous bodily harm.
Mr Hart's wife Nicola, 41, has been told that he might die following the assault, which took place between 18:30 and 18:45 BST.
A spokeswoman for the force said: "Forty-year-old Peter Hart was walking home after attending the Guilfest event with his wife and young child, when he was assaulted.
"He went to cross the road and gestured to a vehicle to stop in order that the family could reach the other side safely.
"The car stopped and a passenger got out and assaulted Mr Hart."
On Friday evening police stopped motorists and pedestrians in the King's Road area, in an attempt to jog their memories.
They are still appealing for witnesses and said they were keen to trace the occupants of a silver or white hatchback vehicle and a black 4x4 vehicle in connection with the attack.