London 2012: 'Massive excitement' ahead of Surrey cycle races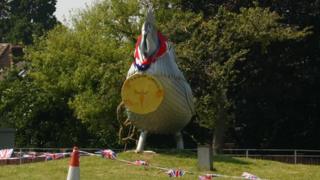 Love it or hate it, there is no escaping the fact that the county of Surrey is just hours away from welcoming the world's top cyclists as they battle for Olympic gold in the London 2012 road cycling races.
Flags and banners - many left over from the Queen's jubilee and Olympic torch relay celebrations - decorate the route, which takes cyclists from The Mall, through west London and then out to Surrey and back.
The races on Saturday and Sunday will see 60 teams of 145 men and 67 women competing, and many were out training on the roads around Box Hill in temperatures of up to 30C on Thursday.
Riders from nations including Australia, France, Austria, Canada, Belgium and China were easy to spot in their national kit.
Britain's Mark Cavendish and Tour de France winner Bradley Wiggins were also familiarising themselves with the route, along with their GB team-mates.
'Stay local'
The men's and women's Olympic road cycling time trial races will also weave their way through the borough of Elmbridge on Wednesday.
Surrey, with its beautiful landscapes, has always attracted cyclists, and last year it hosted the London to Surrey Cycle Classic, which acted as a dress rehearsal for the Olympic races.
Graham Boatman, 50, from Thames Ditton, and Andrew Gadoros, 50, from Weybridge, have 22 years' cycling experience between them and regularly cycle along the Olympic road race route.
"Our average speed is probably about 10 miles less than the Olympians," Mr Gadoros said.
Both said they were very excited to have the races "on their doorstep".
"It's our way of getting involved in the Olympics."
Tens of thousands of spectators are expected to line the route this weekend, which will take the cyclists through Walton-on-Thames, Weybridge, West Byfleet, Dorking, Leatherhead, Oxshott and Esher.
Surrey County Council said roads would begin closing from 04:00 BST on Saturday and 06:00 BST on Sunday, and has advised residents to "stay local" and work out the nearest point where they can watch so they can walk or cycle.
Watching as they pass through Pyrford and Ripley will be David Risby, 62, his wife Lynda, 59, and his cousin, Ian White, 66, who is visiting from Australia.
"We won't be able to cross the road, and we'll be locked in for two days... but it's going to be a fantastic weekend, and we'll never see it again in our lifetime," Mr Risby said.
Further down the road, 29-year-old John Caspar has been busily painting the front of his house in time for Saturday.
He admitted that he had been motivated by the race - which comes through Ripley at 11:05 BST - and he wanted his house "to look good on TV".
"I'm massively excited, and really looking forward to it. I didn't get any tickets for the Olympics."
He is not alone, with the village of West Horsley said to be "at near fever pitch".
Traders' fears
Steve Pain, who has owned the village store for 31 years, said everyone was talking about the races and planning to celebrate.
"It's a bit of history, we'll probably be talking about it for years to come... it brings the whole village together."
Helen Davids, who owns the tearoom in Shere - Nell's Country Kitchen at the Lucky Duck - said she expected the whole village to come out.
"It's an event that we won, so we really should support it," she said.
Further along the Olympic route is the village of Abinger Hammer, with its picturesque village green and stream, which will be entirely cut off for most of the weekend due to the road closures.
Annie Williams, owner of the village store and tearoom, said although she was embracing the Olympic spirit, she and other traders were concerned they could lose business.
"I just don't know how many people we're catering for. I don't know if I'll be doing three baguettes, 30 baguettes, or 300 baguettes," she said.
Barrie Arminson, owner of the nearby Kingfisher Farm Shop, said he was not looking forward to the weekend and would be relying on customers travelling via the back roads.
"We're trying to be positive. We were going to close... but we've got stuff in the shop with sell-by dates on."
Jerry Strzebrakowski, manager of the Tillingbourne Trout Farm, said: "I'm all for the Olympics but, personally, going through the village it's a nightmare for us. We are literally shut for two days
"We are going to lose a lot of money. It's not ideal."
Surrey County Council has said although there will be "massive disruption" it expects many businesses will receive a boost from the cycle events.