London 2012: Large crowds expected to watch road race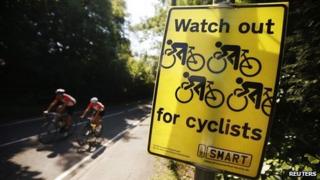 Tens of thousands of people are expected to try to catch a glimpse of Bradley Wiggins and Mark Cavendish in the London Olympic cycle road race.
The success of the British Cycling team in the Tour de France is expected to swell the crowds lining the route, from London to Surrey and back, on Saturday.
People planning to use London and Surrey roads over the weekend have been warned to expect some disruption.
Road closures in central London will take place from 03:00 BST on Saturday.
They will affect motorists in The Mall, West Kensington, Fulham, Putney, Richmond, Hampton Court in west London.
More than 500 roads in Surrey will also shut from 04:00 BST.
The cycle route will reopen about three hours after the last support car has passed. Road closures will come into force again at about 06:00 BST on Sunday.
Tour de France winner Wiggins and Paris sprint victor Cavendish will be among the competitors taking part in the race which starts at The Mall at 10:00 BST on Saturday.
Amateur cyclists
Cavendish is hoping to win the UK's first Olympic gold medal in the men's race. The women's road race takes place the following day and time trials will be held on Wednesday.
Team GB cycling team, including Wiggins and Cavendish, and scores of riders from other nations including Australia, France, Austria, Canada, Belgium and China carried out training sessions at Box Hill on Thursday.
Hundreds of amateur cyclists have also been testing the route through Walton-on-Thames, Weybridge, West Byfleet, Dorking, Leatherhead, Oxshott and Esher over the past few days.
Helyn Clack, Surrey County Council (SCC) cabinet member for the 2012 Games, Clack said: "Staging the Surrey section of the Olympic cycling events involves 42 miles of roadside barriers, 5,000 traffic cones, 4,000 road signs and 545 road closures.
"It's a massive task, but we are ready.
"We're urging people to be prepared and plan ahead to enjoy these Olympic events in the county. That will help us minimise the inevitable disruption that staging events of this size will bring.
"There'll be road closures and parking restrictions along the route on event days, so we're asking people to avoid driving in the area if at all possible. If you want to catch the action, staying local and walking is the best option.
"Journeys will take longer than usual and public transport will be busier."
A spokeswoman for the Highways Agency said: "Road users planning to drive through Surrey on the three days of the Olympic road cycling events are reminded of Highways Agency advice to plan ahead and leave extra time for their journeys.
"That is because many of the local roads managed by Surrey County Council will be closed while the cycling events take place and this means there will be more traffic on other roads, particularly the Highways Agency major roads such as the M25."