London 2012: Surrey villagers delighted with road race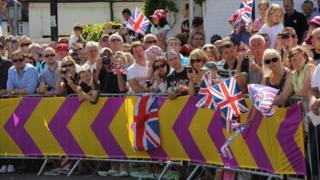 Hundreds of people descended on a picturesque Surrey village to witness the 2012 Olympics first hand.
Spectators began lining the streets in Ripley from 06:00 BST to secure their spots for the London Olympic cycle road race.
The picturesque village's main street was closed for a chicane section of the race, making it a great spot for people to view the cyclists.
They may have only caught a fleeting glimpse of Tour de France winner Bradley Wiggins and sprint specialist Mark Cavendish when the peloton sped along the High Street at about 11:05 BST, but no-one was disappointed.
"It was absolutely fantastic. The atmosphere is just electric. So many people came out and it feels very British," said Martin Hurry who had travelled from East Sussex to watch the event.
"The sun's come out as well, what a perfect day."
Hubert Cheung, from Milton Keynes, Buckinghamshire, was not expecting it to be over so quickly.
"We didn't see a lot. It was quite crowded and there was cheering but it was quite exciting," he said.
"It was a good atmosphere, really good.
"There was only two little snippets when you could see the cyclists but it was a good experience nonetheless."
'Magical day'
Keen cyclist Nick Hind provided the waiting crowd with updates on the competitors progress via a loudspeaker.
There were gasps of relief from the crowd when he informed spectators that although there had been a clash of bikes none of Team GB had been involved.
When the peloton did make it to the village the crowd erupted, with people waving Union Jacks, clapping and cheering the competitors along.
Mr Hind said it had been "magical" in Ripley.
"The crowds have been great, what an atmosphere.
"To watch the British guys go through, it moves you to tears almost, proud to be British."
He said the British cycling team stopped for tea and coffee in Ripley's Nest cafe on Friday, adding to the excitement for the village.
"We were lucky enough just yesterday to have the entire Team GB turn up at Nest.
"They sat and planned and talked about their tactics here in this very cafe so it was really inspirational to listen to them and what they were doing and what they were talking about," he said.
Ripley resident Sally Chandler said she was thrilled the Olympics had come to Surrey.
"Ripley is just the most wonderful place and to have them [the cyclists] all here is an honour," she said.
Karen McCarthy, who travelled from Essex with her husband Michael, said the race had given everyone the chance to watch the Olympics first hand.
She added: "We didn't have a clue where we were going to end up and this is where we did.
"It's been brilliant, really lovely. Lovely atmosphere, lovely weather and really nice people.
"Everybody can take part in it which is great."
Alexandre Vinokourov of Kazakhstan won the men's road race, with Mark Cavendish and Bradley Wiggins finishing outside the medal positions.