Army criticised over James Hill death by Surrey coroner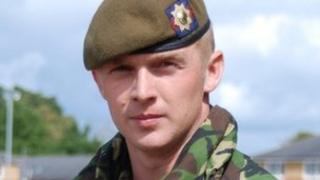 A coroner has criticised the Army over the death of a soldier killed by an improvised explosive device (IED) on a training range in Afghanistan.
L/Cpl James Hill, 23, of Surrey, died four days after arriving at Camp Bastion, in Helmand, in 2009.
Surrey coroner Richard Travers said warnings about the potential for IED attacks, due to locals having access to the range, went unheeded by commanders.
The MoD said ranges were now located within Camp Bastion's perimeter.
Mr Travers recorded a verdict that L/Cpl Hill was unlawfully killed while on active service.
'Culture of complacency'
In a statement jointly released with their son's fiancee Anastasia Newman, his parents Brian and Clare, said: "James' death totally shattered our lives and now we have been deeply hurt all over again as we have discovered that his death was needless and entirely preventable.
"It was not just those responsible for planting the IED that caused his death, but a culture of complacency and a disregard for every soldier's safety that reached right up the chain of command."
The inquest in Woking heard that on the day he died, L/Cpl Hill, of 1st Battalion The Coldstream Guards, went from Camp Bastion to carry out rifle training on the range, about 4km from the base.
The training was part of a programme that aimed to acclimatise soldiers to local conditions.
However, the inquest was told that before and after training periods local people had "unfettered access" to the site.
Mr Travers said concerns about the range team's ability to clear the area to the safest possible level had been brought to the attention of the chain of command at Camp Bastion by the range conducting officer.
"It is not clear what action, if any, was taken by the chain of command as a result of those concerns," he said.
Mr Travers also explained that within nine days of L/Cpl Hill's death, the Army had created a new firing range within the secure fence of Camp Bastion.
He said this showed it had been possible to create a safe environment for the training.
An MoD spokesman said the Army's thoughts remained with the family of L/Cpl Hill.
"Searches of the training range were carried out using Vallon detectors and no IEDs were found," he said.
"However, an investigation into the incident showed that more thorough procedures to reduce the risk of IEDs being planted should have been carried out."
He added that since 2010, ranges have been located within the expanded perimeter of Camp Bastion and stringent checks were conducted regularly.