London 2012: Bradley Wiggins' training kit stolen from Surrey hotel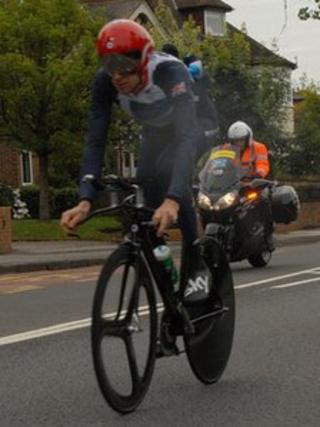 Tour de France winner Bradley Wiggins has had his Olympic training kit stolen from a Surrey hotel being used as a base for the Team GB cycling team.
In a message on Twitter on Sunday, he said: "Watch your kit at the Foxhills spa... there is a tea leaf about."
The Foxhills hotel, in Ottershaw, said he had left it unattended on the men's locker room changing room benches while using the sauna and shower facilities.
It said "cycling fever" was seemingly to blame for the loss of the lycra.
The 32-year-old had returned to the hotel following a practice session ahead of Wednesday's London 2012 road cycling time trial races.
'Over-zealous fan'
In a statement, Foxhills said he had arrived at the health spa at 12:45 BST on Sunday to use the gym and spa facility.
"Upon returning back to the locker room it seems that cycling fever has well and truly hit the Surrey club as the Official Team GB training lycra were nowhere to be seen.
"It seems an over-zealous fan has scored a fantastic London 2012 souvenir."
Wiggins later tweeted: "Gotta delete tweet Re the thief, bad PR, never mind my kit though!"
Surrey Police said officers "had not received a report of a theft at this location".
The Team GB road cycling teams have been staying at the hotel during their preparations for the London 2012 road races.
The men's event was held on Saturday, and the women's on Sunday, taking cyclists from The Mall, through west London and then out to Surrey and back.
During the time trial on Wednesday, riders will race against the clock, starting at Hampton Court Palace before heading south over Hampton Court Bridge and into the Surrey borough of Elmbridge.
The route takes in several towns and villages including Thames Ditton, Weston Green, Esher, Hersham and Cobham as well as Kingston and Richmond.
The men's route also goes through Teddington and East and West Molesey.