London 2012: Surrey roads reopen after Olympic time trials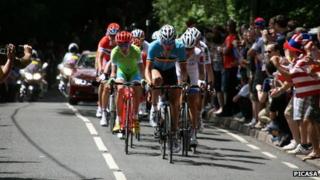 Roads across Surrey have reopened after the Olympic cycling time trials which took place earlier.
The route took riders from Hampton Court Palace into Surrey through several towns and villages.
All roads along the time trial route were closed by 07:00 BST and reopened by about 19:00 BST.
Team GB's Bradley Wiggins, who recently won the Tour de France, won the men's race while the women's race was won by American Kristin Armstrong.
'Absolutely wonderful'
Rob Moran, chief executive of Elmbridge Borough Council, said that, despite the disruption, the authority was delighted to host another cycle race in Surrey.
He said some traders in Esher had doubled their takings at the weekend.
"The eyes of the world have seen Surrey at its very best. It looks absolutely wonderful and welcoming. What's not to like?" he said.
"We are hoping people will see it as a destination to come to visit and delight in all the things that residents know are the reason why they live here."
The route took in several towns and villages including Thames Ditton, Weston Green, Esher, Hersham and Cobham as well as Kingston and Richmond.
The men's race also took in Teddington and East and West Molesey.
During the cycle road race, held at the weekend, crowds in Surrey were eight-deep in places.