London 2012: 'Wiggins effect' sees cycling enthusiasm grow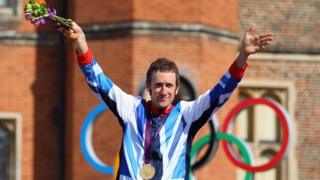 "Once the Olympics are all over anyone can go and ride the course we rode today," Olympic cyclist Bradley Wiggins said after winning the men's time trial event.
The record-breaking athlete was speaking after he finished the 44km route in 50 minutes 39 seconds in an event that took riders from Hampton Court Palace through Elmbridge and several towns and villages in Surrey.
He said: "That's what's brilliant about cycling. That facility costs nothing to do, nothing to make, and it is going to be there forever."
After he was asked, in a tweet via the BBC, to give advice to an amateur cyclist, the winner of the 2012 Tour de France added: "It's accessible, that's the beauty of it. Anyone can get up and do it."
Cycling campaigners and clubs are now braced for the "Wiggins effect", as a cycling craze grips the UK.
Along the route of the cycle road race in Surrey, hotels and tourist organisations are already taking bookings for the whole of next year from cyclists who want to ride the Olympic race routes.
'Fantastic role model'
Surrey saw hundreds of thousands of people turn out for the cycle road race at the weekend and time trials on Wednesday.
Surrey County Council leader David Hodge said earlier on Thursday that the authority was now considering making a bid to host the Tour de France so that elite cycling could return to the county.
And in September, the Tour of Britain will finish in Guildford.
The national cycling charity CTC, which has its headquarters in the town and a 70,000-strong membership, said cycling had been growing in popularity over time, but there was a notable "Wiggins effect".
Spokeswoman Victoria Hazael, who watched the road race from Gomshall, said: "We have record membership at the moment."
She said cycling had become more attractive for many reasons, including the health benefits of increased exercise and saving money.
"Whenever there is a recession more people cycle and also when fuel prices go up," she said.
When more people started cycling, others tended to join them, because it seemed more like a normal activity and people felt safer in numbers, she explained.
'Huge attention'
She said: "The mood has changed. People are winning medals. It's reminding people they have got bikes in their sheds.
"It is inspiring to witness something like the cycle race.
"And there is also a Bradley Wiggins effect. He is a role model. It is fantastic what he has achieved.
"Cycling has been building for many years, but Wiggins is a lovely guy. He comes across as really genuine.
"He encourages his children to ride, and we hope that will encourage more parents to do the same."
The cycle road race on the opening weekend of the Olympics took cyclists from the Mall, through west London, out to Surrey and back again, and included a 9.6-mile (15.5km) circuit around Box Hill, including the National Trust's Zig Zag Hill.
Tony Tijhuis, manager of Dorking's Burford Bridge Hotel near Box Hill, has already taken bookings from groups of cyclists for the whole of next year.
He said: "They want to cycle the Olympic route, so I think it's going to be really good for us and there must be a lot of businesses who will benefit."
Rob Hawkins, who set up a company called Just Pedal to arrange cycling trips in the Surrey Hills, said: "The men's road race has bought a great deal of attention to the region.
"It's raised the profile of cycling in the area and with the Tour of Britain coming later in the year, it's a great time to be cycling in the area.
"It could become a real Mecca for cyclists across the country and across the world."
Anna Tomkins, project manager for the tourism organisation Visit Surrey, said: "In every corner of the world somebody now knows where Box Hill is and they have seen that stunning countryside as the cyclists climbed up Box Hill.
"They've seen the vibrant towns. They've seen Hampton Court Palace. We couldn't ask for more."