Woking's Horsell Common Muslim burial ground restored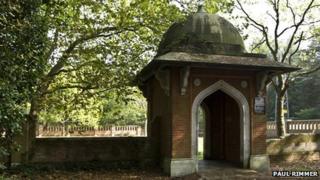 A World War I burial ground built in Surrey for Muslim soldiers killed in combat is to be repaired in time for the 100th anniversary of the conflict.
The Grade II listed structure in Woking deteriorated over years because of age and vandalism.
The Horsell Common Preservation Society has received funds from English Heritage to pay for 80% of the work.
Spokesman Paul Rimmer said the society had wanted to restore the site for 40 years but had never had the cash.
The society is hoping to complete it by 4 August 2014 - the centenary of the outbreak of WWI.
It is thought structural repairs will cost up to £120,000, and further funds would be needed for landscaping.
German propaganda
Mr Rimmer said: "It's deteriorated through age, but it's also been subjected to vandalism to various attacks and theft of some of the Portland stone cappings that line the top of the wall structure."
He said the society was working with Woking council, which is also funding the project, to select architects and contractors.
More than one million troops from India, including what is now Pakistan, fought for Great Britain during World War I.
Wounded soldiers were brought to hospitals in the South East, in particular Brighton.
Hindu and Sikh soldiers were taken to crematoriums in Brighton and Hampshire, but Muslim soldiers did not have a special burial ground until 1915.
According to English Heritage, the War Office felt the need to respond to German propaganda suggesting Muslim soldiers were not being buried in a respectful way.
The burial ground was completed in 1917 in Woking which was then home to Britain's only purpose-built mosque.