Live war shell found in Dorking Museum stock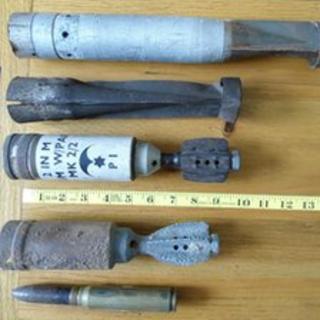 A bomb squad has blown up an unexploded cannon shell and military flare after staff at a museum realised they had held the stock for up to 20 years.
Army explosive experts were called in after the potentially fatal mistake was discovered during a stock assessment.
Kathy Atherton, from the museum, said she would investigate how they got there but suspected they were historic donations from souvenir collectors.
The Ministry of Defence said the items were destroyed at a base in Aldershot.
Ms Atherton said six suspect items were discovered by volunteers last month, two months before the end of the museum's three-year refurbishment programme.
War souvenirs
"A volunteer took photos and sent them off to the Imperial War Museum, and they came back, identified them and said 'you can't be sure with these things, even if they're old they may still be explosive, you really need to get some advice on this'," she said.
"At that point we contacted the police who got the bomb squad in from Aldershot."
She said four of the old munitions were deemed safe but the flare and World War II cannon round were taken away and destroyed.
"They've probably been in the museum's collection for years, we've been collecting since the 1950s," she added.
"There's a whole generation of people who during the war went and collected souvenir items, someone's probably had it in the back of a wardrobe for years and at some point deposited in the museum and they've been in our stores ever since."
The Ministry of Defence said the Royal Logistic Corps removed and destroyed a 2in illumination mortar round and 20mm cannon round as a safety precaution on 24 July.
The items returned to the museum will be displayed alongside a 1940s war map showing where planes fell, parachute landings took place and bombs, rockets and incendiaries fell on the Dorking area.