London 2012: A30 Egham lanes reopen before Paralympics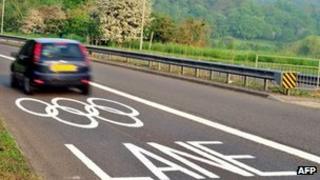 Games Lanes on the A30 in Surrey are to be reopened between the Olympic Games and Paralympics instead of remaining in force, as previously planned.
The Olympic Delivery Authority said it was originally believed that temporary suspension of the lanes, on the Egham bypass, would cause confusion.
But it said the lanes had worked better than expected and it would be safe to reopen them from 13 to 26 August.
Director of transport Hugh Sumner said it "reduce the impact for road users".
The Games Lanes will be closed to normal traffic again from 27 August until 6 September.
The A30 Games Lanes are on the route used by athletes staying at Royal Holloway University campus in Egham to get to the rowing and sprint canoeing events at Eton Dorney on the River Thames.
The Olympic Delivery Authority said the impact of the the lanes on normal traffic had been minimal, with only minor queues during the morning rush hour.
The Games Lanes on the Egham Bypass are part of the 284-mile Olympic Route Network and Paralympic Route Network for London 2012.
Other temporary traffic measures will remain in place without a break until 5 September.
They include temporary traffic lights at Piggery Gate, Egham, a 30mph speed limit on Egham Hill and a clearway between Piggery Gate and Egham Hill roundabout.