Infested abandoned pony found in Chaldon lane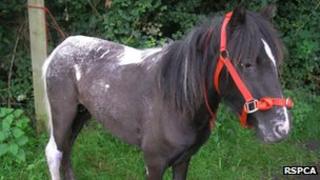 An abandoned pony has been found in Surrey with its hind legs infested with maggots and green bottle flies.
The RSPCA was called to Chaldon, where the black and white Piebald mare was found loose in Rook Lane.
She was named Star by the charity's staff and taken to an animal centre for intensive care treatment.
The RSPCA's Lucy Chillery said the mare had a bacterial infection which she thought had gone untreated for over a month.
The pony's hind legs were swollen with cuts and covered with flystrike - a potentially fatal condition caused by green bottle fly infestations.
Ms Chillery said: "I was so shocked when I saw this poor animal's wounds. She was in such a pitiful state that she had to lift one foot after another off the floor to ease the pain.
"She had clearly been callously dumped in the middle of the night by someone who then just drove away."
The RSPCA said it believed Star to be about two-and-a-half years old and 11 hands or 110cm (45in) high and may have recently had a foal.
Ms Chillery said that when Star was found on Wednesday she was "barely able to walk".