Michael Gove 'undermining Olympic legacy'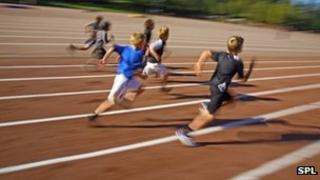 Labour has accused Education Secretary Michael Gove of undermining the Olympic legacy by cutting £2.5m from sport projects for young people in Surrey.
It says hundreds of primary-linked teacher and co-ordinator posts have gone locally since the Schools Sports Partnership programme was cut in 2010.
But Tory MP Damian Hinds said Mr Gove's commitment was "unquestionable".
Ministers have announced a £1bn youth fund and say team sports in all primary schools in England will be compulsory.
Surrey Labour Party chairman Murray Rowlands said research showed primary school pupils before year six were not really capable of team games.
"There has to be a policy of bringing children along into sport on an individual basis," he said.
"Now that means specialist teachers coming in and working in that way or training teachers to be able to do that, and that is not taken account of.
"What our prime minister has got is a sort of model of fee-paying schools with huge resources and tiny classes where this type of approach of team sport is actually foisted on younger children."
Gail Emms, who won an Olympic silver medal for badminton in 2004, said she was glad people were at least talking about the issue.
The Olympian, who has worked with youngsters at Surrey Sports Park, said: "In a way I am so glad that maybe people are going to wake up to this and say 'oh yes, maybe we should do something about school sports'.
"But this is not something new, we knew this was going to happen.
"I'm just frustrated, but hey if we're going to get some more funding for school sports, especially primary schools, of course that can only be a good thing."
Richard Nixon, from the Surrey Hockey Association, has raised £9,000 to provide hockey equipment for schools in Crawley and Horley.
He said every secondary school should have an all-weather pitch and urged more investment in infrastructure.
But Mr Hinds, MP for East Hampshire and a former athlete, said: "It is not the case that the government is cutting down sport in schools, quite the reverse.
"I think the commitment of the prime minister, Michael Gove and other ministers to sport in schools is unquestionable."