Frimley Park Hospital helipad put to the test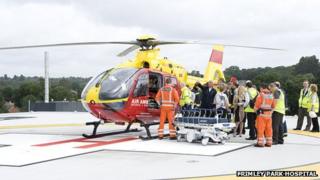 A £22m extension to a Surrey hospital is nearing completion with the testing of a new helipad for air ambulances.
Frimley Park Hospital staff and air crews have tested off-loading casualty trolleys into the resuscitation department below.
The emergency department opened in July and serves people in Hampshire, Surrey and Berkshire.
Until now, air ambulances had to land on school playing fields on the opposite side of the nearby M3.
Patients were then transferred to the hospital by road ambulance.
The hospital has recruited 23 helipad standby crew from within its existing staff.
The helipad is expected to become fully operational in September, the hospital said.
A dedicated lift links the roof to the resuscitation area.
The extension houses the new emergency department and day surgery unit, which the hospital said would be one of the best in the country.