Oxted quarry housing announcement met with caution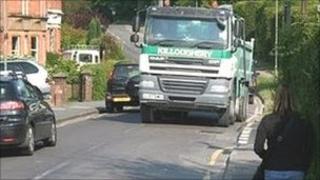 Residents who have protested against lorries using a quarry in a Surrey town have reacted with caution after its owner announced proposals to build houses on the site.
The chalk quarry in Oxted closed in September and its use is under review by Surrey County Council.
Letters have been sent to residents by its owners, Southern Gravel, announcing plans to permanently close the quarry.
Residents had protested over the number of lorries using narrow roads.
However, they are concerned the letters, which offer to build houses on the site, may be a "red herring" to distract councillors from the 15-year periodic review, which is being undertaken.
'Pie in the sky'
Catherine Sayer, from the Oxted and Limpsfield Residents Group, said: "We're not saying there's any deliberate attempt to distract anyone, but it does look like a red herring.
"We've just finished the consultation and people have been waiting years for this review and there's been an absolutely fantastic response.
"The letter has come... but our focus is absolutely firmly on getting these quarry lorries controlled because for all we know this [proposal] is completely pie in the sky and not feasible."
Southern Gravel said the idea for housing had been floated about two years ago by a local councillor and that campaigners had been aware of the plan for many months.
The company added housing would allow them to close the quarry about 30 years early and asked residents to wait until they had seen the draft proposals before making up their mind.