Epsom and Ewell prepares to celebrate 75th anniversary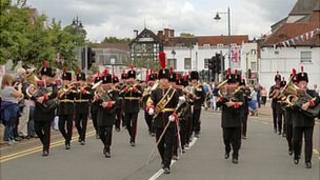 Celebrations to mark the 75th anniversary of a Surrey borough will include a concert and a fair with parachute and martial arts displays.
Epsom and Ewell borough is gearing up to celebrate on 29 September.
In June, an anniversary parade took place through Epsom, with bunting created by local children.
A concert will be held at Epsom Downs Racecourse on 28 September, and a fun fair will mark the actual anniversary the following day.
Peter Heard, president of Ewell Rotary Club which helped to organise the fair at Hook Road Arena, said: "This will be an extraordinary day, held on the same date as the borough's incorporation in 1937."
The fund-raising concert in the Oaks Hall at the Duchess's Stand at Epsom Downs Racecourse will see six choirs and a brass band on stage, bringing hundreds of performers together.
The Epsom and Ewell Silver Band said it would be a spectacular event in an impressive setting.
Mayor of Epsom and Ewell Christine Long said: "Come and listen to music to celebrate the borough's 75th anniversary, whilst helping to raise money for some very good causes."
Epsom Playhouse is selling tickets for the concert, which is also part of the borough's Queen's Diamond Jubilee celebrations, and will raise funds for the mayor's charities.