Weybridge gas leak residents return to homes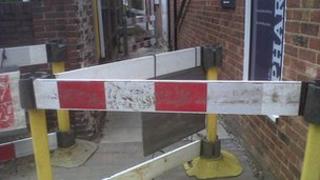 Residents have been allowed to return to their homes after spending a night in temporary accommodation following a gas leak in Surrey.
About 30 people were moved out of eight properties including flats above The Pharmacy in Church Street, Weybridge, at about 16:20 BST on Thursday.
Southern Gas Networks said the leak was repaired by midnight but work continued on the main on Friday morning.
Church Street was closed while the leak was fixed but reopened at midnight.
Gas levels in the area were monitored throughout the night.
Southern Gas said the leak was caused by a fault affecting the electricity cable and gas pipe.
"We would like to apologise to the affected residents for the inconvenience caused," said a spokeswoman.
Surrey Fire and Rescue said there had been a small fire in the electrical cable before the gas leak.