Horley grandmother spends spare time helping Zambia's street children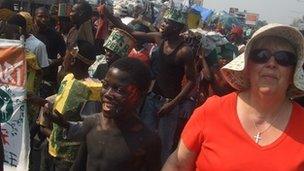 A grandmother from Surrey who has used her retirement years to work with the street children of Zambia is seeking to raise funds to furnish a dormitory.
Carol Tomlinson, 65, from Horley, has been out to the south central African country three times with the worldwide aid charity Mission Direct.
Volunteering for several months at a time, she has helped to build school buildings and look after the children at the Fountain of Hope centre of refuge in Lusaka.
The centre, which can take up to 45 children, provides shelter, schooling, food and healthcare to orphans, vulnerable children and street children, who would otherwise face a life high on drugs and scavenging for survival.
"On the street they do what they want, with the aim of getting money for drugs," Ms Tomlinson said.
She has two children and three grandchildren, but includes another five children in Zambia as her family.
"In Zambia you share your children with everybody," she said, adding that she was motivated by "a sense of happiness".
"There is so much happiness within the most grinding poverty.
"I get far more back than I can ever give," she said.
Ms Tomlinson has just returned from a two-month mission in Lusaka, where volunteers have been building the first of two dormitories for the children, who currently sleep in old bunk beds put up in a classroom.
"It will greatly enhance their lives," she said.
About £30,000 in total is needed to fund the building and furnishing of both dormitories.
To help with the fund raising, Horley Methodist Church is holding a Jazz Songs of Praise on 23 September with donations going towards the cost of equipping the new dormitory with bunk beds and mattresses.
Mission Direct is a Christian charity that enables teams of volunteers from the UK to participate in projects that benefit communities in some of the world's poorest countries.
Related Internet Links
The BBC is not responsible for the content of external sites.