Guildford Philharmonic Orchestra could lose funding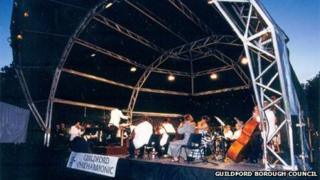 An orchestra in Surrey is at risk of losing its council funding.
The Guildford Philharmonic Orchestra costs Guildford Borough Council about £190,000 a year, with the average subsidy at about £46 a ticket.
A report for its corporate improvement scrutiny committee has said the money would be better spent on a yearly grant of £50,000 plus £41,000 costs.
The grant would be used to encourage classical performances across the area. The proposal will be discussed later.
The council has funded and managed the Philharmonic as part of its arts provision for the borough since the orchestra's inception in 1945, when it was the Guildford Municipal Orchestra.
The council said the proposal would place "greater emphasis on classical music to engage young people and children and the inclusion of world music in addition to western art music".
The provision of lunch time recitals would also be encouraged.
'Rich musical heritage'
If approved, the council would save £98,500 a year from 2013-14 onwards.
Keith Motson, membership and communications manager at the Association of British Orchestras, which represents 68 professional orchestras across the UK including the Guildford Philharmonic, said closing down the orchestra would be "incredibly shortsighted" given its "rich musical heritage".
"Most in the UK have a mixed funding model, which allows money to come from a number of different sources," he said.
Mr Motson urged the council to "allow some time for the orchestra to naturally change, to start bringing in money from sponsorship, corporate philanthropy, and other areas" in order for it to be retained.
The council's corporate improvement scrutiny committee will discuss the matter on Thursday evening, ahead of a meeting of the council's executive on 8 November.