Surrey MP criticises Farnham furniture shop's free bar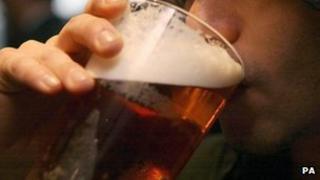 A furniture shop in Surrey giving away free beer to attract more customers has been criticised by the health secretary for exploiting a legal "loophole".
Jeremy Hunt, MP for South West Surrey, said Simon Atkins' shop Innsatiable in Farnham could have an adverse effect on the town's pub trade.
The shop does not need a licence as alcohol is given away and not sold.
Mr Atkins insisted he was doing nothing wrong and said anyone who looked under 25 was asked for ID.
Mr Hunt has asked the alcohol licensing minister if the Home Office planned to take action.
'Captive audience'
"Legally, the owner of Innsatiable is doing nothing wrong, but I know that there are genuine concerns about the impact of the scheme on the pub trade in Farnham and fears that similar businesses might open in other towns," he said.
But Mr Atkins insisted he was allowed to have a free bar in his shop, which he said gave his business a captive audience.
"We give them [customers] a free beer," he said.
"If they want to buy a beer mat they can buy a beer mat, if they want to buy our furniture they can buy our furniture, and if they want to buy our branded clothes they can.
"We operate in exactly the same way as all the supermarkets do, and that's a policy of ID for anyone who looks under 25
"We could get into the situation where we could serve people under 18 because they are allowed to drink, but we don't want to get that - that's up to their mums and dads."
Waverley Borough Council said it was working with Mr Atkins to clarify whether he needed a licence.
'Against the law'
A spokesman said: "Should information come to light that the Licensing Act 2003 is being breached, Waverley Borough Council will take appropriate action."
Surrey Police said the force was aware of the shop's operating practices and officers would act over any licensing act breaches.
"The Safer Neighbourhood Team will continue to monitor the situation but currently there is nothing being carried out which is against the law," the force said in a statement
A Home Office spokesman said: "It is a criminal offence to sell alcohol without a licence. This may include situations where alcohol is included as part of a wider contract or transaction or where no specific price is quoted but donations are requested."