Farnham Golf Club 'devastated' by trophy raid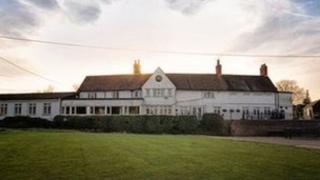 The head of a golf club in Surrey says he is "devastated" after 19 historic trophies and cups - many solid silver - were stolen on Tuesday evening.
Farnham Golf Club secretary Grahame Cowlishaw says the items - some almost 100 years old - are irreplaceable.
Hooded and masked burglars were captured on CCTV removing a patio door, smashing a glass cabinet and fleeing.
The haul includes the Silver Frigate Trophy, the 116-year-old club's emblem thought to cost £100,000 to replace.
Mr Cowlishaw said the burglars took just 90 seconds to carry out the raid in Blighton Lane at about 20:45 BST.
'Melted down'
"I've been here 30 years, 25 years as the pro. There's a lot of me here," he said.
"You feel like they've taken something out of your house because it's part of the club, you feel devastated, it's history and you're not going to get that back."
He said the 14-in (36cm) high Silver Frigate Trophy carried the most sentimental value and memories as it was first played for in 1934 and is presented to the men's open winner.
"If you could find someone skilled enough to make another trophy with the same intricate sails and rigging, it would cost up to £100,000," he added.
It is believed the old-fashioned frigate was chosen as the club's emblem as boat builders used to come from the south coast to collect wood from the forests around Farnham to build boats with.
Among the stolen cups were the Bateman Cup presented by the club's captain in 1925, the Spreckley Cup, presented in 1915, and the distinctive, large Victory Cup from 1945.
He said he feared he would never see the solid silver items again as they were likely to be melted down.
Surrey Police have appealed for witnesses or anyone who has been approached with the silver trophies to come forward.