Surrey burst pipes 'risking drivers' lives'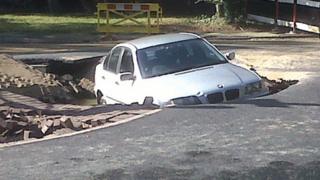 Road collapses caused by burst pipes in Surrey could lead to a fatal crash if nothing is done, it has been claimed.
Resident and countryside manager Paul Rimmer spoke out after two road collapses in a year both ended up with cars stuck in holes.
The incidents happened in Guildford Road, Chertsey, in September, and in Chertsey Road, Woking, in 2011.
Affinity Water said the two bursts were on separate mains and not a result of one main's poor condition.
'Cavernous hole'
But Mr Rimmer said the problem was more widespread, with incidents on Horsell Common and near the Basingstoke Canal.
He also claimed several incidents since 2004 had all involved one mains pipe under the A320.
Mr Rimmer, who lives near the A320 and manages woodland on Horsell Common, added: "I'm not a geologist, but I understand it might be the case that the pipe is reacting to the local soil."
He said: "When the burst occurs, the force of the water washes a cavernous hole underneath the Tarmac.
"The Tarmac usually stays in place but all the soil underneath washes away and it's when a car then attempts to cross that void that the tarmac collapses and then the car ends up in the hole."
'Robust procedures'
Calling for the mains under the A320 to be replaced, he said: "It wouldn't stack up if somebody was to be killed through lack of infrastructure replacement."
In a statement, Affinity Water said it continuously monitored its whole network.
It added that: "With a pipe network that could stretch from London to Sydney, there is always potential for bursts and leaks to occur anywhere."
The statement said: "It is not possible or practical to replace all mains where a burst occurs so we adopt a selection criteria, which allows us to focus our investment on those that have a history of bursts."
"Affinity Water have robust procedures in place and our teams of engineers continually monitor our network and respond quickly when bursts do occur to repair problems and make sure that disruption is kept to an absolute minimum," it added.