Shepperton Eco Park granted Environment Agency permit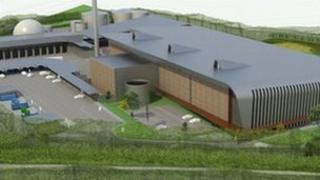 A waste and recycling plant approved by Surrey County Council has been given a permit by the Environment Agency.
Spelthorne Borough Council, which had opposed the plan, said the environmental permit cleared the way for Sita to build and operate the Eco Park in Shepperton.
Spelthorne council leader Frank Ayers said he was disappointed.
The Environment Agency said it decided that Sita could comply with the permit without causing significant harm.
Sita said the permit was an "important step".
'Fundamentally wrong'
Mr Ayers said: "I am naturally very disappointed in the decision which will enable Sita to proceed.
"Spelthorne council has strongly objected to this proposal and believes it is fundamentally wrong to put a waste plant so close to where many hundreds of people live."
Mark Ormrod, Environment Agency manager, said: "We spent a considerable amount of time evaluating the application and have concluded that Sita are able to comply with the conditions of the varied permit, without causing significant harm to human health or the environment."
He said the agency had held two consultations and made a number of changes as a result of people's responses before issuing the final permit.
The agency had increased dioxin monitoring from quarterly to monthly for the first six months and had also required a review of arrangements for the routing of the boiler protection vents, he added.
The plant, which will treat about 100,000 tones of waste each year, is being built on the site of an existing facility in Charlton Lane.
'Reducing landfill'
Residents living nearby had expressed fears the extension would lead to increased pollution and traffic problems.
Sita said the plant would treat waste in a more cost-effective and environmentally-friendly way and generate green electricity to power thousands of homes.
Surrey County Council, which approved the plans in March, said the plant would reduce the amount of waste sent to landfill.
The authority said sending waste to landfill cost Surrey taxpayers about £600,000 every month and damaged the environment.