Jimmy Savile's Camberley medals to stay out of sight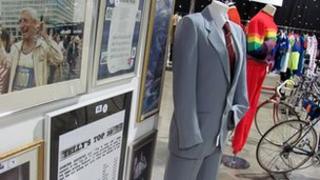 Four medals bought for a Surrey museum in an auction of Jimmy Savile's belongings are to be kept from public view following the sex abuse scandal.
The medals, won by the late TV presenter and DJ in the Camberley half-marathon in the 1980s and 1990s, were bought at the auction in July.
Surrey Heath Museum displayed them in a Sporting Heritage exhibition to coincide with the London 2012 Olympics.
A spokeswoman said it would not be appropriate to put them back on show.
Chairman of the Friends of Surrey Heath Museum, Janet Perrott, bought the medals, believed to cost £150, and donated them to the museum.
'Historical interest'
The auction of Savile's collection of mementos and personal belongings in his home city of Leeds raised about £320,000 for his charities.
Spokeswoman Samantha Watson said news of the ITV documentary about Savile's abuse of under-age teenage girls, broadcast on 3 October, first broke about the time the Sporting Heritage exhibition ended on 22 September.
Savile, who died last year aged 84, is believed to have carried out a 40-year campaign of sexual abuse.
Ms Watson said the museum, in Knoll Road, Camberley, did not think it appropriate to put the medals back on display after the summer exhibition.
Its current show, Ghosts and Ghouls, opened on 6 October and runs until 22 December.
"The medals are not inscribed with Jimmy Savile's name but are of historical and social interest to the area," said Ms Watson.
"The medals are still in our collection but we have no future plans to put them back on display."