Appeal for return of Magna Carta to Runnymede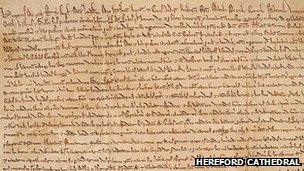 An appeal has been made for a copy of the Magna Carta to be returned to Surrey for its 800th anniversary.
Surrey County Council is calling for a copy to be loaned to a new visitor centre planned in Runnymede for the anniversary in 2015.
The Magna Carta was signed by King John in Runnymede Meadow in 1215.
Council leader David Hodge said: "Even being able to see a part of it at the site where history was made nearly 800 years ago would be incredible."
Many copies of the Magna Carta were made and sent across England.
There are only four copies of the original 1215 Magna Carta still in existence - at Salisbury Cathedral, Lincoln Castle and The British Library, London.
A Surrey council spokesman said: "We have asked the Magna Carta 800th Anniversary Commemorative Committee to approach the holders of the four copies of the Magna Carta."
The Magna Carta, which is Latin for great charter, is one of the most famous documents in English history.
Magna Carta was a peace treaty between King John and the barons who were in revolt against him and set out the principles of freedom under the law.
Only three of the 63 clauses in the Magna Carta are still in law.
One defends the freedom and rights of the English Church, another relates to the privileges enjoyed by the City of London and the third is generally thought to have established the right to trial by jury.
Related Internet Links
The BBC is not responsible for the content of external sites.