Surrey police and crime commissioner 'will be uncompromising'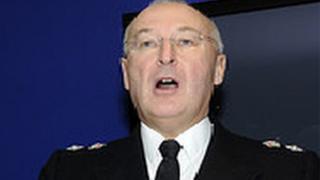 The new police and crime commissioner (PCC) for Surrey says his new role is to make sure the police deliver the service the public wants.
Independent Kevin Hurley was sworn in after the election results were announced on Friday.
"I will be uncompromising in the standards I expect Surrey Police to set," he said.
Chief Constable Lynne Owens said she was relying on the PCC to secure funding for Surrey Police.
Mr Hurley who officially started in his role on Thursday, said: "I've been elected to put the public's view to the chief constable, and make sure she delivers on it."
The former borough and public order commander with the Metropolitan Police said his approach was to tackle anti-social behaviour "head on".
Mr Hurley said his first action in the role was to ask for a review of the policy of selling Surrey Police stations and buildings.
In February 2011, the force announced 15 police stations would close in Surrey in an attempt to safeguard front-line jobs.
Surrey Police is facing cuts to budgets of £28 million by 2015.
Ms Owens said: "My job is to make sure that I secure an excellent service for the people of Surrey and I will rely on the police and crime commissioner to secure me the right budget to do that."