'Low interest' in Surrey council's devolved tree scheme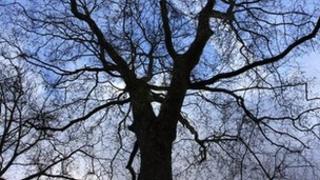 A bid by Surrey County Council to devolve roadside tree maintenance to district councils has seen two out of eleven authorities taking on the work.
Woking and Epsom have taken over their trees but other councils have not.
County council papers said interest had been low "for numerous reasons" including the perceived condition of trees, workload and resources.
Surrey County Council said the plan was not about saving money but rather reaping the benefit of local knowledge.
A report said lack of interest was because council perceptions included that trees had not had adequate maintenance; there would be "a bottomless pit of work"; anticipated budgets would not be enough; and customer complaints would also be transferred to the authorities.
'No small undertaking'
Geoff McManus, Woking council's neighbourhood services manager, said Woking received funds for the work and saw it as an opportunity to carry out additional schemes such as tree planting.
He said: "We see it as a positive thing, but it's no small undertaking. You've got to be prepared to do it thoroughly."
A county council spokesman said: "Woking and Epsom & Ewell Borough Councils already carry out highways tree maintenance on our behalf and we are discussing the same possibility with the other Surrey councils.
"The work will not stop, however, if this doesn't happen."
He said the county council spent about £650,000 per year on tree maintenance and the scheme would not save much money, if any.
But he said: "It would reap the benefit of more local knowledge and provide the opportunity for enhancement of neighbourhoods in a way that is currently limited by our heavy workload making sure trees are safe."