Cranleigh roundhouse to be rebuilt after arson attack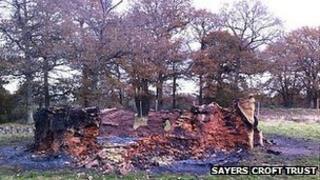 Work to rebuild a reconstruction of an Iron Age roundhouse that was destroyed in an arson attack in Surrey will start next year.
The Sayers Croft Trust, which used the thatched roundhouse as an educational resource, has planned a coppicing day to be held on 19 January.
Hazel wood will be gathered to restore the structure which was burnt down last month in Ewhurst village, Cranleigh.
Surrey Police said two local men, both aged 18, were assisting their inquiry.
A spokeswoman for the trust said the charity had been overwhelmed with support after the fire.
'Work of art'
She said the rebuild would need large quantities of hazel, to weave the wattle walls and the "roof rings" which provide a base for the the thatch.
Costs were being kept down by taking the hazel from the charity's own woodland, she added.
Volunteers are being sought to help with the coppicing and the charity is still urging anyone with information about the arson attack to contact police.
The charity said the roundhouse that was destroyed in Cranleigh Road had inspired young people and had been "almost a work of art".
It said the attraction was visited by several thousand children each year and had been a reconstruction of a pre-Roman dwelling that included handmade reproduction artefacts.