Surrey firms meet apprentice goal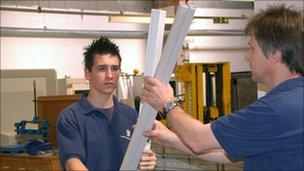 Employers in Surrey have created 200 apprentice places for teenagers after the county council launched a campaign.
Under the scheme, businesses were each given £1,500 by the council as a cash incentive to hire an apprentice.
The county council campaign launched in July aimed to fill 200 places by 31 March but has already met its target.
It aimed to stimulate economic growth across the county and also reduce the number of people not in education, employment or training (Neets).
Council leader David Hodge said roles created by the businesses covered carpentry, hairdressing, business administration, customer services, childcare and plumbing.
He said: "Reaching the 200 target with four months left of the time we allotted is fantastic news. It is a huge boost for teenagers as well as helping businesses to develop talent."
The Conservative-led council ran a similar campaign last year when it aimed to fill 200 apprentice places in 100 days and went on to meet its target, a spokesman said.
Related Internet Links
The BBC is not responsible for the content of external sites.