Surrey Chief Constable Lynne Owens' contract extended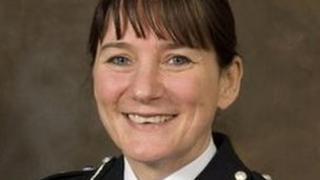 The Chief Constable of Surrey Police has had her contact extended until November 2017 by the police and crime commissioner (PCC).
Lynne Owens was appointed in February 2012, but due to Home Office restrictions could only be employed until November 2014.
Under police regulations, the PCC Kevin Hurley has been allowed to extend her appointment by three years.
He said: "I have taken this decision to ensure the continuity of leadership."
Ms Owens began her police career with the Met before serving as a senior investigating officer with Kent Police.
She transferred to Surrey Police in 2002 where she served as a divisional commander and then temporary Assistant Chief Constable.
In 2008, she was awarded the Queens Police Medal for distinguished service in the New Year's Honours.