Frimley fish-and-chip shop owner thwarts robbers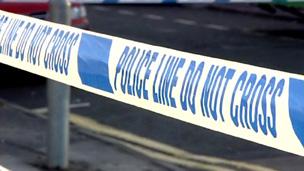 A fish-and-chip shop owner fought off three masked robbers who attacked him as he locked up at his Surrey shop.
The 44-year-old man, who has not been identified, was hit over the head from behind at Kim's Plaice, in Frimley High Street at about 22:20 on Friday.
He refused to hand over money and was hit again before he managed to punch one of the attackers in the face.
The proprietor had to have stitches in a head wound. The trio escaped with a set of keys.
A woman, who was on the premises and went to help was ushered into a shed by one of the suspects but was not hurt, according to police.
Det Sgt Chris Greatorex, of Surrey CID, paid tribute to the bravery of the victim.
He said: "This was a really nasty assault by three men who waited until the chip shop was closed before attacking the owner from behind. His refusal to hand over any money led to him being further attacked and needing hospital treatment for his injuries.
"However, he did manage to fight back and punch one of the suspects in the face, so that man may well have a facial injury."
Police want to hear from anyone who saw the robbery or any suspicious people in Frimley High Street on Friday night.
The suspects were all between 5ft 4in and 5ft 6in tall and wearing ski masks. One spoke with what is described as a Birmingham accent.
Related Internet Links
The BBC is not responsible for the content of external sites.