Chertsey A320 floodings 'not linked'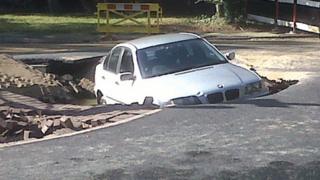 A Surrey road was hit by more flooding on New Year's Eve - but a water company said there is "no indication" of a link to previous incidents.
The leak on the A320 in Chertsey caused flooding, disrupting traffic and water supplies to homes.
It happened about 100m from where a car plunged into a hole in the road after another pipe burst in September.
But Affinity Water said the leaks were in separate pipes, which are not a high priority for renewal.
Affinity has been under pressure to replace the pipe network under the Guildford Road following several bursts in recent years.
'Low priority'
In September's incident, the road collapsed and a car fell into it, prompting calls for an overhaul of the mains network in the area.
And on Monday a burst in a parallel pipe flooded the road, close to the entrance of St Peter's Hospital, forcing traffic to take a detour for several hours and leaving householders in the area temporarily without water.
Affinity is promising to analyse the network in the area, but is not guaranteeing action.
A spokesman apologised to its customers, but said: "There is no indication of a link between these incidents and ones previous to this year, which also occurred on different mains.
"The recent bursts have all occurred on pipes that have only minor corrosion, so they have a low priority for renewal at this point in time."
He added: "We are planning a series of tests this spring to review the condition of the pipework in the area to determine if and when the mains need to be renewed.
"However, we will have to take into account the disruption caused by occasional bursts against a lengthy renewal project on this very congested highway, where we have little flexibility for laying mains outside the highway itself, without affecting the adjacent woodland."