Caterham's Rose and Young site may get shops and homes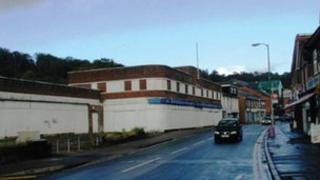 Small shops with homes above are being put forward as the best solution for redeveloping the site of a run-down former garage in Surrey,
Planning consultants have drawn up four options for the Rose and Young site in Croydon Road, Caterham but say retail and flats would bring the most benefit.
Residents are being invited to put their views at an exhibition of the proposals on Monday and Tuesday.
Work to tidy up the site before redevelopment is to begin next week.
Tandridge District Council, unhappy with the state of the building and land, has said encouraging redevelopment is a long-standing objective.
In September it issued a legal notice to the owners requiring significant improvements or demolition.
'Move things along'
Planning consultant Julian Blake said his company had been working with the owners and the council.
"We have been brought in to see if we can move things along and we are keen to speak to people to see what they want from the site," he said.
"We haven't had any clear indication yet apart from that they would like something to happen."
The four options include reuse as commercial premises, but there is said to be too much vacant space locally already.
The others are a large single retailer or a mix of commercial, retail and residential use.
Following the exhibition at Soper Hall, a formal planning application is expected to be submitted to the council in the spring.