Surrey schools shut after snow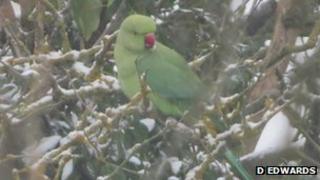 Snow has caused the closure or partial closure of 233 Surrey schools and led to travel disruption across the county.
Rail commuters face delays and timetable changes and Heathrow Airport cancelled 404 flights when it closed one of its runways for de-icing.
A spokesman for Gatwick Airport tweeted that light snow began falling soon after 09:00 GMT but said flights were running smoothly.
The Highways Agency is warning drivers to be prepared and to set off earlier.
Surrey Police has advised motorists to only make essential journeys, saying freezing weather had made driving conditions "treacherous" on some minor roads.
However, they said major routes are currently running freely.
Frimley Park Hospital said all outpatient clinics and non-emergency work has been cancelled for the rest of Friday.
A decision will be taken later about non-emergency services on Saturday.
Gatwick Airport is warning on its website: "We advise you to allow extra time for your journey and to check the status of your flight with your airline before travelling to the airport."
South East Coast Ambulance said on Twitter: "Snow getting heavier, especially in Sussex and Surrey. We're getting busier and are taking longer to get to some patients than we would like."
The Met Office issued a severe weather warning for South East England for Friday, warning of more snow and a danger of snow drifts.
BBC South East weather presenter Rachel Mackley said: "We've got weather warnings out from the Met Office about the snowfall which are valid all weekend.
"Widely we're expecting five to 10cm of snow with up to 15cm in some areas further to the west.
"Temperatures won't rise above freezing and we've got bitterly cold south easterly winds. Snow flurries are expected Saturday and Sunday."
Surrey County Council said it sent out gritters to ensure priority routes were treated before the snow arrived.
The council has a stockpile of 16,000 tonnes for the winter - twice what is used in a typical winter and 60% more than it needed last winter.
Southern Rail and South West Trains are running amended timetables, which will mean fewer trains and some changes to station stops.
But South West has also already cancelled some services in anticipation of the bad weather.
The county council has posted details of any school closures on its website.