Surrey snow: Disruption likely with heavy snow forecast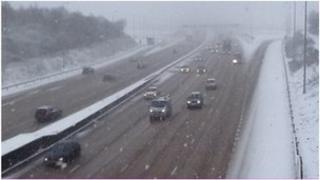 Almost 40 gritters will be out overnight in Surrey treating primary routes, with the Highways Agency gritting motorways in the county.
Surrey County Council said priority one routes will be gritted from 18:00 GMT followed by priority two and three roads.
Persistent snow is forecast for late Sunday morning and afternoon.
The flight schedule at Heathrow Airport for Sunday will be reduced by 20%, after 2-6cm of snow was forecast.
More than 400 flights were cancelled on Friday with hundreds of passengers forced to spend the night on the airport's floor. A further 100 flights were cancelled on Saturday.
Gatwick Airport said it had suffered minimal disruption, praising its new fleet of snow clearance vehicles.
Vulnerable neighbours
BBC weather forecaster Helen Willetts said there will be snow in the south east and the east of England on Sunday, pushing into north-east England later in the day.
More snow is expected on Sunday night going into Monday, in the south-east and eastern side of England, she added.
Councillor John Furey, from Surrey County Council, said: "I'm afraid that if residents are snowed in, they will just have to deal with it.
"There are the emergency services if there is a real problem.
"Most importantly, if you have neighbours who are vulnerable or appear to have a problem go and speak to them and help them."