Royal Holloway student hit with gun during burglary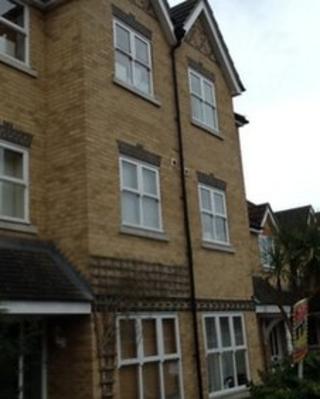 A student has been taken to hospital with a head injury after being hit with the butt of a gun during a burglary at a house in Surrey.
Surrey Police said three men armed with a knife and a handgun forced their way into the house in Nightingale Shott, Egham at about 01:35 GMT on Sunday.
They threatened the man, a student at nearby Royal Holloway University, before attacking him.
The men took items including a laptop, jewellery and a passport.
As they escaped they used the gun in the street to threaten other men who were returning to the house, occupied by six students.
It is believed four other men were all told to get on the ground with their hands behind their heads.
'Hurt confidence'
The injured man was later taken to St Peter's Hospital, Chertsey.
One of his housemates said he was he was shaken up but would be "fine".
"Obviously it has hurt his confidence a bit. He is a bit troubled because they threatened him and he was struck and stuff."
He said the robbers knocked on the door of the house and rushed in when his housemate opened the door.
"They cleaned the place out. They have taken a lot of our electrical equipment, stuff like that."
He said police had advised the students to stay away from the house for a couple of days.
"I have just been going to get my stuff," he said.
"I have moved all my valuables out and I am just going to change and stuff there and get showers occasionally."